Regular price
Sale price
$95.00
Unit price
per
Sale
Sold out
Call upon the Warrior Orisha Oya to be blessed with our Oya Fixed Candle. 
This powerful candle, personally conjured by Mama Satin and connected to the Orisha Oya, has endless properties!: 
Breaks hard blockages.
Intense protection from Evil, showing your enemies who NOT to mess with!

Helps clear your path for manifesting! 
Make your connection with Oya today! Shop at SatinSays.com ❤️
Email help@satinsays.com and send us a review as offering for this candle. 
Legal Disclaimer:
These statements have not been evaluated by the FDA and we do not intend to diagnose, treat, cure, or prevent any disease.
We are not responsible for any personal use. DO NOT LEAVE CANDLE UNATTENDED UNDER ANY CIRCUMSTANCE.
ALL SALES ARE FINAL, WE DO NOT OFFER RETURNS OR REFUNDS DUE TO THE NATURE OF OUR PRODUCTS. 
Share
View full details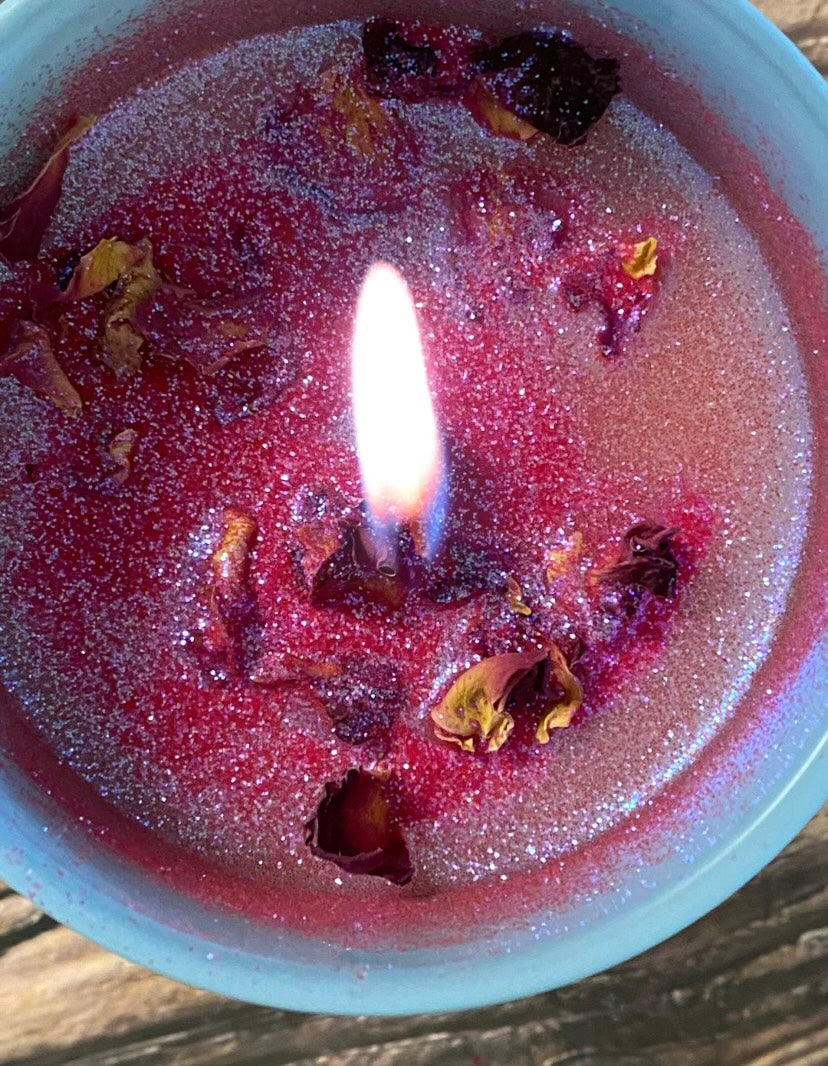 Oya Candle
My candle just finished burning, it's giving what I asked for like all the canes I purchase from Mama Satin. Thanks Mama Satin your products always give what's supposed to be given.
One of my FAVORITE candles!!!
I seriously LOVE the Oya candle. The smell is so calming yet empowering to me. Sometimes I like to sit with it at my alter and envision outcomes of situations and what I'm trying to work on and overcome. Sometimes I even cry because I'll realize things I never did before or get some clarity that I was seeking. Oya definitely gets those blocks broken and then some.
Divinely protected
It has been a lil while since I lit oya but hunny I still feel her protection and breaking down blockages. Just know w.e you get from satin is the mf truth.
Oya The Goddess I never knew I needed
Much gratitude to Oya for all of the things she's made clear for me. My candle came covered in my birthday surprise bb that got damaged during delivery. I knew that once I lit Oya it was going to be a wild ride. My Non profit, North Philly Peace Park, was destroyed by children from the community. But there were grapefruits and yucca left in the park. I immediately knew it was Oya clearing out the energy. I got the Eggplant and offered it to her when I lit the candle. Let's just say she swept through my life, eliminating people, showing me how much I was holding myself back, showing me how powerful my gifts really are, and giving me that Aunty/Motherly love feeling that I needed. Also those same children that vandalized the park are now our young comrades. We've invested in businesses for them. They also now protect the park from other children who may come to cause destruction. In their words "We're their safe haven" Thank you Oya and Mama Satin 💚
Collapsible content
TEXT SATINSAYS TO 855-4894188

You will be get first dibs on when this restocks!
TIPS

Don't forget not to obsess over results! The magic is there. all products come blessed and activated, just stay committed to using it, and results will continue to amaze you!
SHIPPING

Please be aware of processing timelines noted in our help & info tab, at the bottom of this home page, right here on this product, and agreed to at checkout! Rest assured you will LOVE your products! It will feel like Christmas when it arrives!

Subscriptions: our subscription must be in place for at least two months, two payment cycles before cancellation is allowed, as you agreed to such at checkout. Any audios or videos are only sent once, to the email on file. You must download immediately, as you will not receive another email. 

We do not edit orders once completed. Please ensure shipping and billing match, or your order will be held until verified.