Regular price
$300.00
Sale price
$288.88
Unit price
per
Sale
Sold out
NEW! Need some extra luck and abundance? Get your SatinSays Money & Good Luck Bundle!
As a bundle of spiritual products, there are a multitude of benefits!:
Brings lucky energy to your home. 
Increase luck, success in sales or business ventures, and gambling luck.
Increases wealth and prosperity. 
Has the ignited power of several powerful spirits to aid your manifestation!
Those who've used this bundle reported an increase in job opportunities, promotions, extra checks, and all kinds of monetary blessings!
Bundle Contains:
1. Body Oil: Wealthy Empire 
2.  Candle: MONEY MAGNET or BAYBERRY 
3.  Money Bracelet 
Updated photo coming 
Legal Disclaimer:
Please consult with a doctor If you're pregnant, as product contains coconut, and tea tree.
These statements have not been evaluated by the FDA and we do not intend to diagnose, treat, cure, or prevent any disease.
We are not responsible for any personal use. Patch test anything before use. Use at your own discretion. 
 DO NOT LEAVE CANDLE UNATTENDED UNDER ANY CIRCUMSTANCE.
ALL SALES ARE FINAL, WE DO NOT OFFER RETURNS OR REFUNDS DUE TO THE NATURE OF OUR PRODUCTS. 
Share
View full details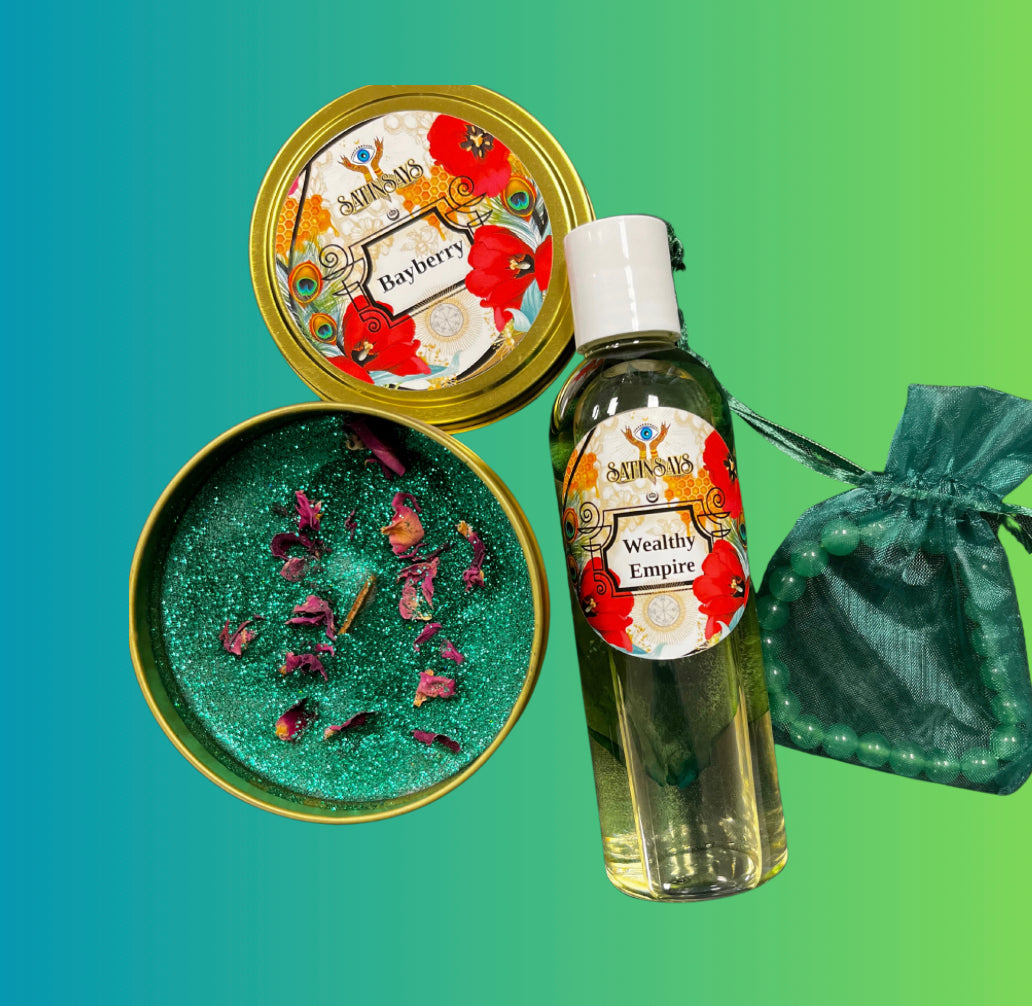 Love your products
Absolutely love your products, everything has been going good money has been following steadily can't wait until what I manifested comes through, I will be restocking soon.. thank you 😊
Money and Good Luck Bundle
I love these products in this bundle Smells great. While using this product I did my chant. I thought the next day a bunch of money would appear in my bank. Lol that wasn't the case. I also started to get discouraged because I was losing more money then gaining. BUT!!! WHEN I WOULD START FEELING THAT WAY I WOULD REMEMBER MY CHANT FROM THE WEBSITE AND MONEY WOULD FLOW FROM DIFFERENT SOURCES. I also noticed I been more mindful of my spending wanting to budget and start setting money saving goals. Which was never the case before using this product. Of course that big lump sum of hasn't appeared YET!!! but it will. Blessings never come easy the bumps you might feel only mean the product is working. Have patience trust the process. Definitely will buy again and will recommend. Thank you Mama Satin❤
🤑Smells like frutation 💰
Haven't burned the candle yet, but used the spray. And yasss it is encouraging*** Ready to receive all that is for me. Smells great like lime sunshine and wind.
Moneyyyy Bundleee! $$$
I'm a bit late with my review, but it's still valid 🙃
As soon as I got my bundle, I rubbed a bit of wealthy empire oil on my bracelet and put it on. I decided to light my candle later that day because it was Thursday, and that's the day for money. I forgot, and decided to light it the next Thursday. Well, I forgot again the next week 🥲🥲 the following Thursday, I was talking to my wife and playing with my boobs (sorry if that's TMI lol) and my bracelet just broke! At that very moment, I lit my candle. That same night, I got the first half of my paycheck. Whole 24 hr earlier than usual. 2 days later, on Saturday, I got the other half of my paycheck, and I usually get that on Tuesdays! I've also been getting gifts, and not all have been monetary!! Mama Satin's products are THE TRUTH! I'm about to order me another bundle now! 🤑🤑
Miracles!
I have to share that after I lit my candle an offer was accepted after 1-yr of looking for my home. I am a homeowner now! Thank you Mama Satin!!
Collapsible content
TEXT SATINSAYS TO 855-4894188

You will be get first dibs on when this restocks!
TIPS

Don't forget not to obsess over results! The magic is there. all products come blessed and activated, just stay committed to using it, and results will continue to amaze you!
SHIPPING

Please be aware of processing timelines noted in our help & info tab, at the bottom of this home page, right here on this product, and agreed to at checkout! Rest assured you will LOVE your products! It will feel like Christmas when it arrives!

Subscriptions: our subscription must be in place for at least two months, two payment cycles before cancellation is allowed, as you agreed to such at checkout. Any audios or videos are only sent once, to the email on file. You must download immediately, as you will not receive another email. 

We do not edit orders once completed. Please ensure shipping and billing match, or your order will be held until verified.