Regular price
Sale price
$555.55
Unit price
per
Sale
Sold out
Want Mama Satin to perform an ancient, extremely powerful ritual for you? You will be amazed at how quick and how powerful this magick works! This is a group ritual, which means it will be conjured for all who book on the same day, or for the same amount of days. This kind of energy is found to be profound and give lasting results! 🔥
🔔 Please note: 
SatinSays does not contact anyone for payment. Please be aware you can only pay for products or services on SatinSays.com directly. You can write your specific desire in the order notes AFTER you checkout, or email it on the day of booking. Otherwise it will be completed with a general chant that your guides will connect to you as needed. 
Our official Instagram is: @SatinSaysTribe
✅You will receive confirmation via email or texts (ONLY IF YOU'RE SUBSCRIBED TO RECEIVE EMAILS OR TEXTS FROM US) once the is done. You will not be given status updates via any other means! If you have other items in your cart, the email is sent when all items are fulfilled to prevent multiple emails. Ordering means your understand this. All root work is completed within 7 days, even if your email isn't sent yet. 
📱 To ensure you're subscribed to text, text the word SATINSAYS to 855-489-4188
❤️🔥This ancient magick has a host of benefits!: 
You will see results almost immediately, though everyone's situation may be different. Many people have gotten results same day! 
You do not have to do any additional work, only thanking the spirits and Mama Satin! (Sending in a review) 
This is performed with your specific manifestation 
This powerful, age-old ritual involves extreme life changing events, so be prepared to allow the changes 
This is combined with modern high society magick (the type that celebrities secretly use to tap into a higher status)
With consistent bookings, you will see even more powerful results! These spirits work whether you understand magick or not! 
✋🏾This is NOT your basic conjure and it requires a ton of energy! Don't obsess over results, and give gratitude and thanks to the spirits once it works! Do this publicly. 
🙌🏾Now every time you come back to Mama Satin to do this work, if will work even better for you! The spirits like dedication, they reward those who give them praise. Give the spirits their praise.
👏🏽There is no karma and it works whether you believe in magick or not, just ensure you're ready to receive! Go add it to cart NOW! 
Legal disclaimer: 
This is to be used as entertainment purposes, and not to discourage anyone from seeking mental or health professional advice. 
ALL SALES ARE FINAL, WE DO NOT OFFER RETURNS OR REFUNDS DUE TO THE NATURE OF OUR PRODUCTS. 
Share
View full details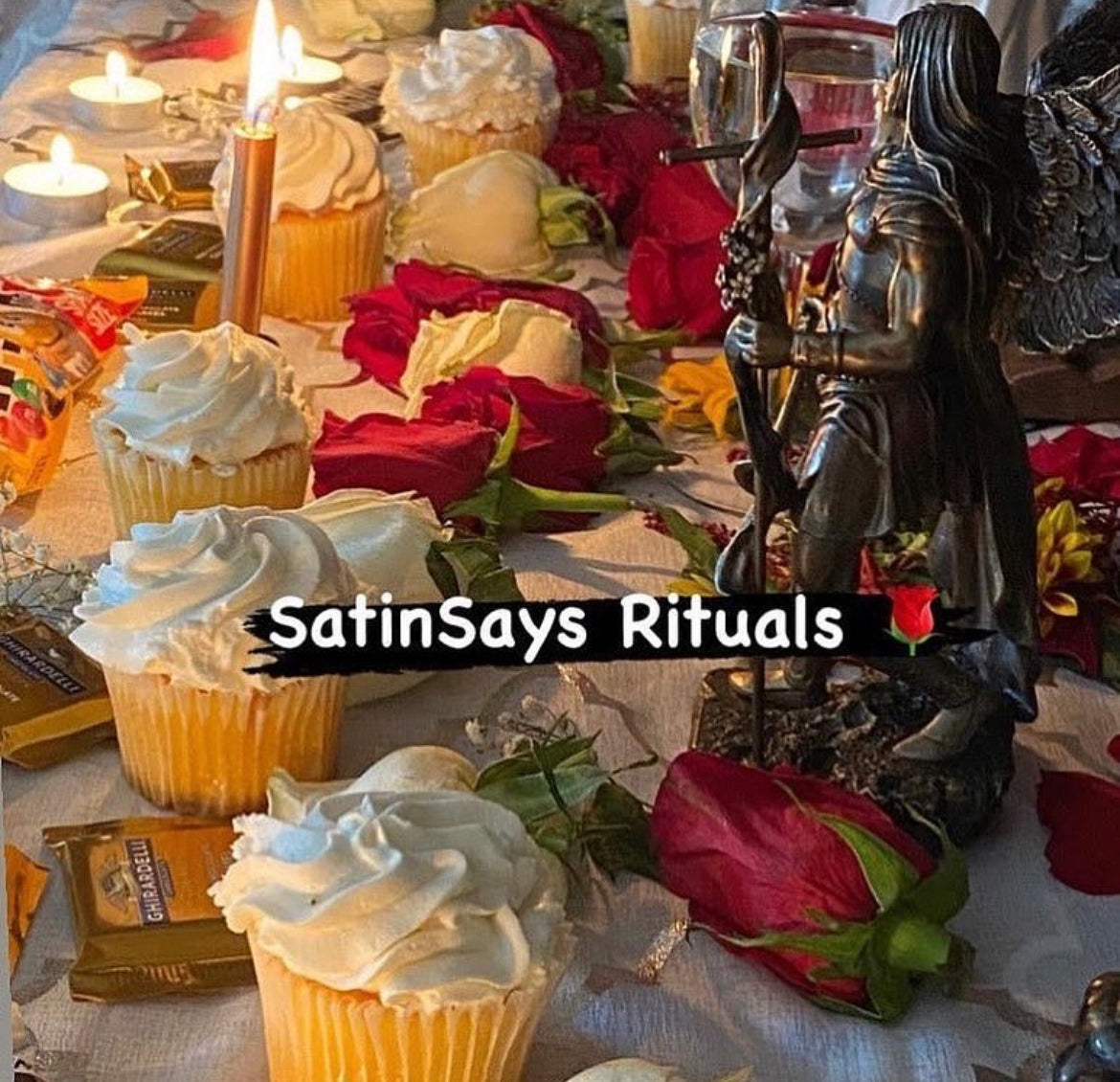 I love all rituals and group rituals
I keep coming back to book over and over because it's the real deal!
Collapsible content
TEXT SATINSAYS TO 855-4894188

You will be get first dibs on when this restocks!
TIPS

Don't forget not to obsess over results! The magic is there. all products come blessed and activated, just stay committed to using it, and results will continue to amaze you!
SHIPPING

Please be aware of processing timelines noted in our help & info tab, at the bottom of this home page, right here on this product, and agreed to at checkout! Rest assured you will LOVE your products! It will feel like Christmas when it arrives!

Subscriptions: our subscription must be in place for at least two months, two payment cycles before cancellation is allowed, as you agreed to such at checkout. Any audios or videos are only sent once, to the email on file. You must download immediately, as you will not receive another email. 

We do not edit orders once completed. Please ensure shipping and billing match, or your order will be held until verified.