Regular price
Sale price
$79.99
Unit price
per
Sale
Sold out
Discover your divine masculine energy with the SatinSays Sex God Bundle! Align your spirit while enhancing your attraction and appeal. ❤️
As a bundle, of spiritual products, there are a multitude of benefits!:
Increased confidence
Awakened masculinity
New opportunities in love/relationships
Alignment with the mind, body, and spirit!
Men who've used this bundle have noticed feeling self assured, confident, and like a powerful God!
Included are:
1. Body Oil: God Body Oil
2. Body Wash: P Appointment Ready
Legal Disclaimer:
Please consult with a doctor If you're pregnant, as product contains coconut, and tea tree.
These statements have not been evaluated by the FDA and we do not intend to diagnose, treat, cure, or prevent any disease.
We are not responsible for any personal use. Patch test anything before use. Use at your own discretion.
ALL SALES ARE FINAL, WE DO NOT OFFER RETURNS OR REFUNDS DUE TO THE NATURE OF OUR PRODUCTS. 
Share
View full details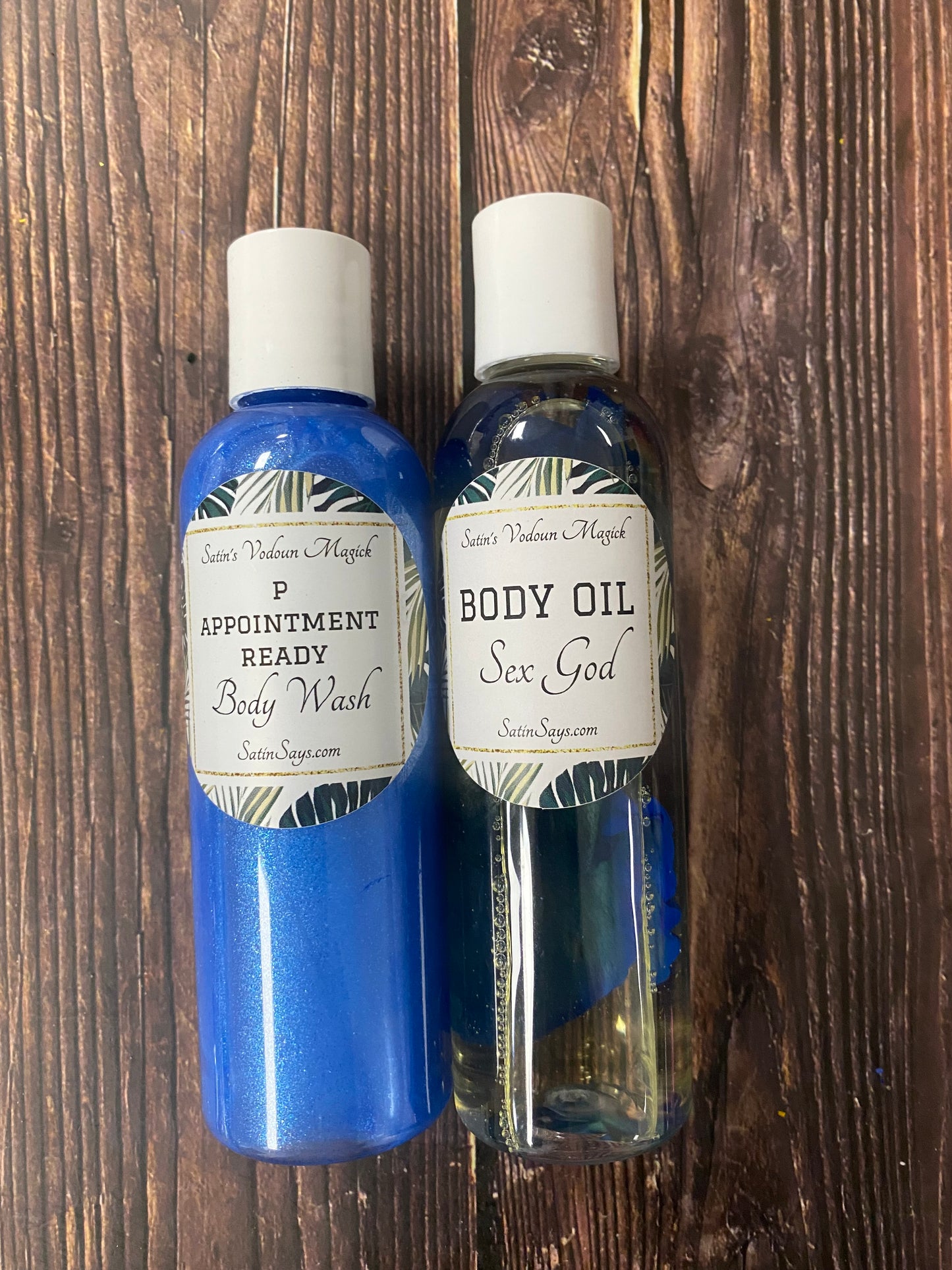 My man loves the wash, and I love it on him. I can never get enough!
Sex GOD is an understatement
I got my husband the sex god bundle after trying satins products for myself and candles. Husband saw & Felt the power behind them so he wanted to try. When this man put on the P appointment body wash in the shower I could literally smell it from the hallway. It smells amazing 😻 it traveled into my bedroom. I couldn't wait for him to come in the room. Then he put the sex god body oil on and I was literally pulling him towards me (yes it smells that bomb) no he's not allowed to wear it to work lmao 😂 my husband loves it as well and says it gives him a hot sensation down there 🤤 It makes me want to stay "down there" for hours. I use my strawberry sins & scrub, put on our peaceful love candle, he puts his body wash and oil & our sex life is now beyond this world -seriously- Get this for yourself or your man you won't be disappointed Im a customer for life 🙏🏽
Husband LOVES it and so do I
Here is my husband's review:
The p appointment ready body wash has a strong masculine and zesty scent that definitely smells fresh and clean. It makes me feel confident and invigorated when I use it.
The sex god body oil is excellent for use around the neck and lower areas. It goes on smooth and leaves the skin tingling and fragrant. The smell is deep and exotic and I'm told is particularly pleasing when your partner is "downstairs" and limited to breathing in the delicious scent through their nose while their mouth is occupiedlol
He says Smells good, I say it smells damn good & sex was intense🎯
Collapsible content
TEXT SATINSAYS TO 855-4894188

You will be get first dibs on when this restocks!
TIPS

Don't forget not to obsess over results! The magic is there. all products come blessed and activated, just stay committed to using it, and results will continue to amaze you!
SHIPPING

Please be aware of processing timelines noted in our help & info tab, at the bottom of this home page, right here on this product, and agreed to at checkout! Rest assured you will LOVE your products! It will feel like Christmas when it arrives!

Subscriptions: our subscription must be in place for at least two months, two payment cycles before cancellation is allowed, as you agreed to such at checkout. Any audios or videos are only sent once, to the email on file. You must download immediately, as you will not receive another email. 

We do not edit orders once completed. Please ensure shipping and billing match, or your order will be held until verified.